Cheri Sicard was a professional food writer, recipe developer, and cooking instructor long before cannabis entered her life, so it was only natural she started cooking with marijuana after her doctor recommended it for a chronic condition. At the time there was little good information available so she penned The Cannabis Gourmet Cookbook, which took some of her most popular recipes and turned them into tasty medibles consumers can easily make at home. Soon Southern California medical marijuana dispensaries and event producers were calling on her to teach their patients about cooking with cannabis.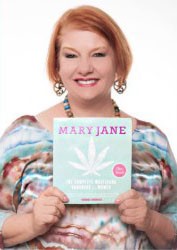 Cheri's second cannabis book, Mary Jane: The Complete Marijuana Handbook for Women, released in 2015, is a great general guide to marijuana and the cannabis lifestyle that has helped scores of women come out of the cannabis closet. Cheri's newest book The Easy Cannabis Cookbook was released to both public and critical acclaim in 2018.
Cheri writes Freedom Leaf Magazine's monthly Medicated Munchies column, and her articles and cannabis recipes can be found in High Times, Kitchen Toke, Civilized, Cannabis Now, Herb, and more. Cheri and her books have been featured in The Huffington Post, the Daily Beast, Time, Bustle, Dame, and a host of other publications. The Daily Beast even dubbed Cheri the "Martha Stewart of Weed."