NEW! I've upgraded this course with 4 new infusions courses, 3 new infusion methods, 2 new important decaboxylation updates, and 1 new product recommendation:
The Mason Jar Extraction method – Great for Infusing Small Amounts!
Making Simple Tinctures
Infusing Honey and Other Syrups
Infusing Milks and Cream
Making Infused Granulated Sugar
New recommended decarboxylation times and temps
Decarboxylating using the Ardent Nova
Draining and Straining Class Upgrade: Using a French Press Coffee Pot and Yogurt Strainer
(NOTE: This mini infusion course is an excerpt from Cheri's much longer comprehensive Easy Cannabis Cooking for Home Cooks course. If you are already enrolled in that course, you do not need to enroll in this one.)

The Best, Most Foolproof Marijuana Infusions for Home Cooks!
Have you had problems with your marijuana butter or cannabis oil being too strong, or not strong enough? Maybe you burnt your infusion and had to throw the whole mess out? Never again!

Perhaps you've mastered butter and oil but want to move on to other types of infusions like cannabis infused milk, cream, honey, or syrup? Or cannabis tincture? How about infused sugar that can be discreetly stirred into to a cup of coffee or tea?
Marijuana infusions form the backbone of most cannabis cuisine. In this course (which is a small part of Cheri's Comprehensive cannabis course), you will learn foolproof infusion techniques and methods that you can use to infuse:
Butter
Edible Oils such as olive, vegetable, and coconut oil
Milk, half and half, cream
Vegetarian milks such as almond, coconut, rice, or soy milk
Honey and other sticky syrups such as maple syrup, corn syrup or molasses
That's not all! The course also covers how to make simple cannabis tincture, which can also be used to infuse granulated sugar!
Knowing how to infuse different type of ingredients opens up the world of cannabis cooking to include many more recipes than those that depend on butter or oil. It also allows to you layer infusions for better dosing control.
Each infusion method is foolproof and easy for home cooks to make with kitchenware you probably already own -- no need for expensive special machines or gadgets, with the optional exception of a slow cooker or Instant Pot (something a lot of people already have).
With video demonstrations and detailed instructions, Cheri compares and contrasts slow cooker, stovetop, Mason jar, and double boiler techniques both with and without water added. You see the results to help you decide which infusion methods are right for you.
Demonstrated in this course:
The bests parts of the plant to cook with and where to find deals on it
How to decarboxylate your plant material
The advantages and disadvantages of adding water to the mix when making infusions.
Slow Cooker infusion method
Double Boiler infusion technique
Stovetop direct heat infusion method
Mason Jar infusion technique
Demonstrations with butter, olive oil, canola oil, coconut oil, milk, honey, alcohol tincture, and infused sugar
How to drain and strain marijuana infusions
The best way to store you infusions
No more wasted marijuana, over or underdosed infusions, and no more burnt batches of butter! Ever!Enroll now for lifetime access. Watch the lessons as often as you like, as many times as you like.
Meet Your Cannabis Cooking Coach: Author and Marijuana Expert Cheri Sicard
Cheri Sicard has been featured in: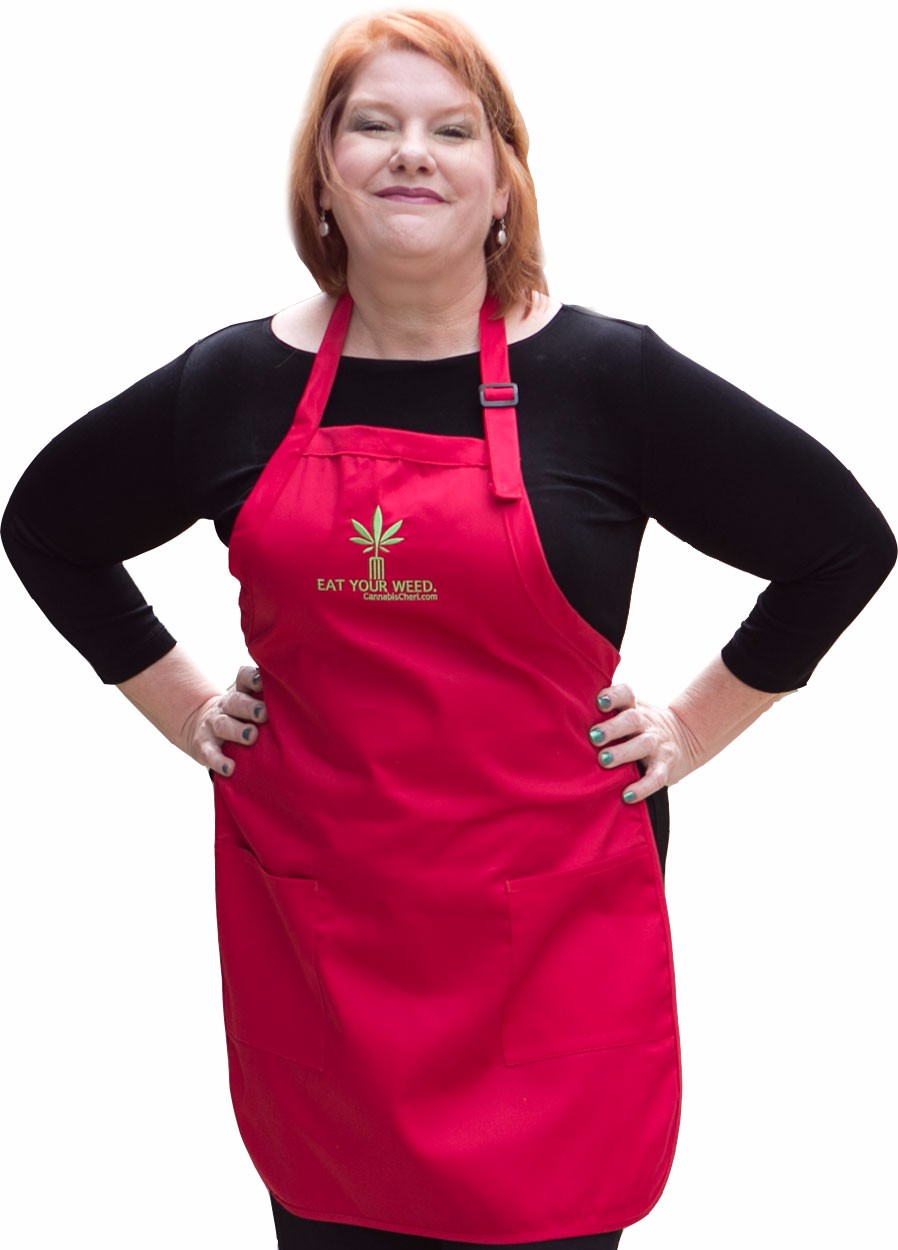 For years, author and marijuana expert Cheri Sicard has been transforming Southern California medical marijuana patients and home cooks into competent cannabis cooks during her live cooking classes. Now you can learn from Cheri on your schedule, from anywhere in the world via your computer.
Your home kitchen will soon be turning out tasty custom dosed marijuana infused foods better than any you can buy. Why? Because Cheri teaches you how to make edibles that meet your specific individual needs. Sure you could trust commercial companies to make edibles for you, if you live in an area where there is such a thing. But when you make it yourself there are no surprises, you know exactly what went into your edibles and what to expect from them. And when you are using cannabis for your health, there's no greater comfort.
NOTE:
The Marijuana Infusions course is an excerpt from Cheri's larger comprehensive course Cannabis Cooking for Home Cooks. If you are new to cooking with cannabis, or have gotten less than perfect results in the past, we urge you to check out full course. On the other hand, if infusions are the only thing you need help with, this course is right for you!