Conquer the most challenging part of Cannabis Cooking -- DOSING!
I hear it every day from cannabis cooks:
"I don't feel any effects from my edibles." or
"My edibles are too strong." or
"Everytime I cook with marijuana, the dosages are all over the map. Can you help me get more consistent results?"

Yes. Yes I can!
After teaching people how to cook with cannabis for years, both in live classes, via my cookbooks and website, and now via my online cooking courses, I can safely say that proper dosing is the #1 problem people have when cooking with marijuana.
Sometimes it is over-dosed edibles, but more often it's edibles that fail to deliver.
My online advanced marijuana edibles dosing class will take away the mysteries and give you the knowledge to make edibles that deliver the dose you need. You also get access to my Dosage Calculator tool that does all the math for you.
This course answers all your edibles dosing questions including:
Why marijuana edibles dosing is so tricky
How to determine your personal optimal dosage range
How to determine an amount of marijuana to use in cooking
How to estimate THC percentages in whatever marijuana you are currently using
How to determine the amount of THC per serving in your homemade edible recipes when cooking with marijuana butter, and marijuana oils
How to determine the amount of THC per serving in your homemade edible recipes when cooking with kief, hash, and hash oils
Effective CBD dosing
How decarboxylation affect dosing
How to use the dosage calculator in order to adjust recipes to get the dose you need
How to get a proper dose when adding marijuana to your own favorite recipes.
What to do if you or someone you know eats too much marijuana.
(NOTE: This dosing course is an excerpt from Cheri's much longer comprehensive Easy Cannabis Cooking for Home Cooks course. If you are already enrolled in that course, you do not need to enroll in this one.)
Meet Your Cannabis Cooking Coach: Author and Marijuana Expert Cheri Sicard
Cheri Sicard has been featured in: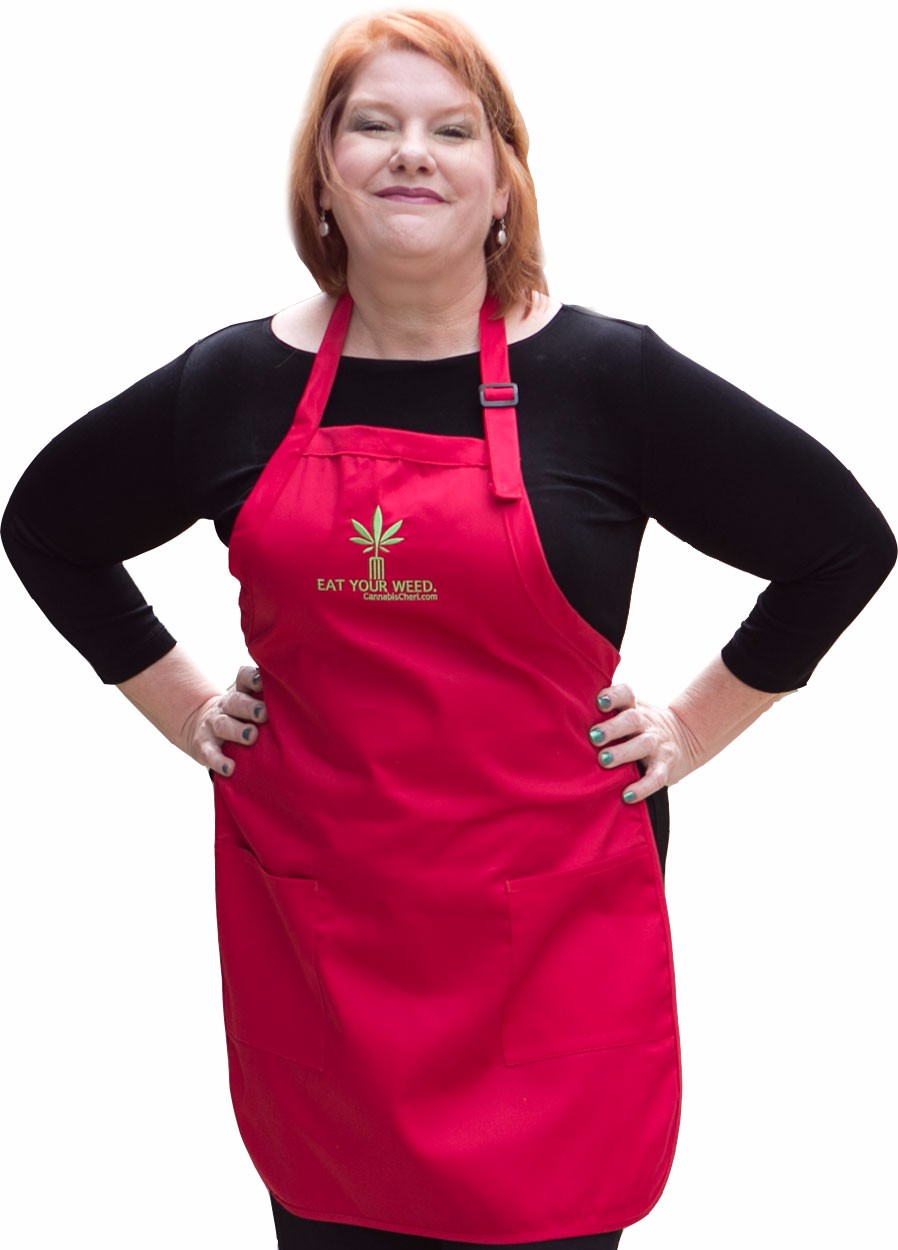 For years, author and marijuana expert Cheri Sicard has been transforming Southern California medical marijuana patients and home cooks into competent cannabis cooks during her live cooking classes. Now you can learn from Cheri on your schedule, from anywhere in the world via your computer.
Your home kitchen will soon be turning out tasty custom dosed marijuana infused foods better than any you can buy. Why? Because Cheri teaches you how to make edibles that meet your specific individual needs.
Sure you could trust commercial companies to make edibles for you, if you live in an area where there is such a thing. But when you make it yourself there are no surprises, you know exactly what went into your edibles and what to expect from them. And when you are using cannabis for your health, there's no greater comfort.
NOTE:
The Advanced Edibles Dosing course is part of Cheri's comprehensive course Cannabis Cooking for Home Cooks. If you are new to cooking with cannabis, or have gotten less than perfect results in the past, we urge you to check out full course. On the other hand, if dosing is all you need help with, this course is right for you!